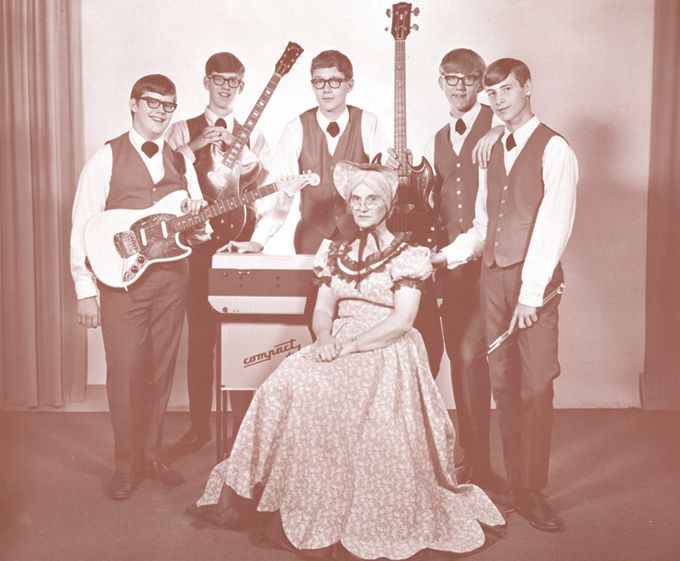 Formed in Sioux Falls in the summer of 1966, Ma's Boys was a popular rock band that played across South Dakota and the upper Midwest until 1970. The nucleus of the band formed when high school freshman, Kevin King (lead vocals/guitar), Michael Parker (bass) and Randy Hink (drums) came together as a trio. Guy Gullickson (lead guitar/vocals) and Jeff Yelinek (organ) soon joined the group, and early in 1967, Mark Lidke was added as lead vocalist and Jeff Olsen replaced Yelinek on organ.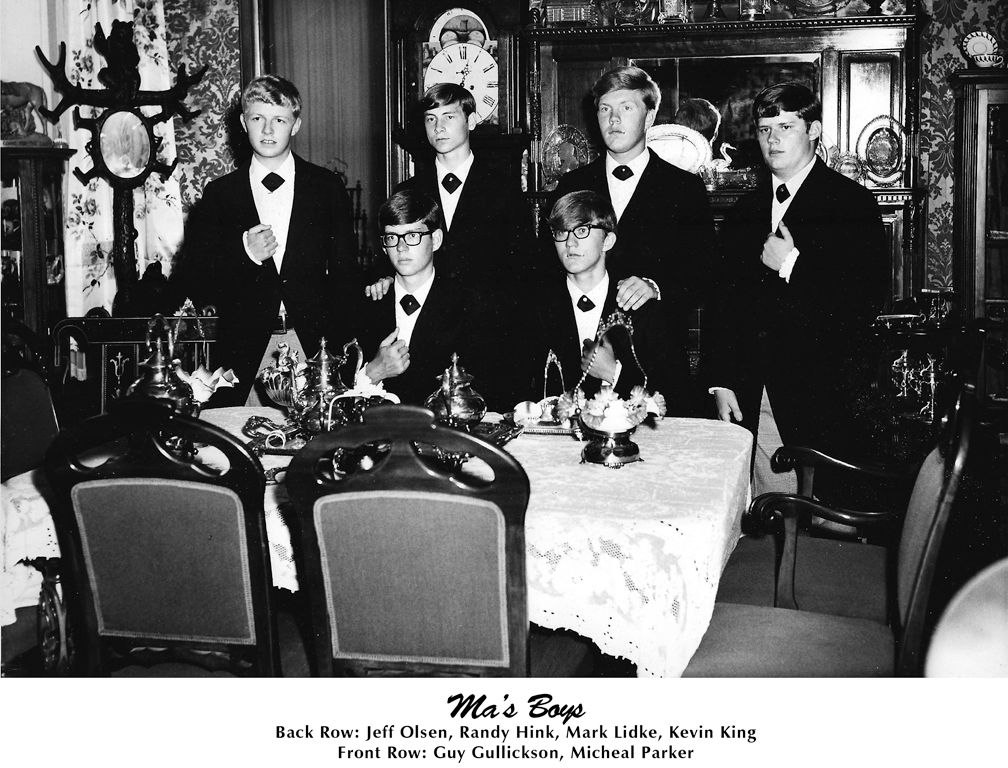 The band's original manager was Mrs. Leona Hink, Randy's mother. She took a special interest in the band - hence the name Ma's Boys - and promoted them through direct mailings to high schools in South Dakota, Minnesota and Iowa.  This strategy resulted in numerous gigs for post-game, homecoming, prom, and other school dances. Leona and her husband, Rip, also served as chaperons, since all band members were under age.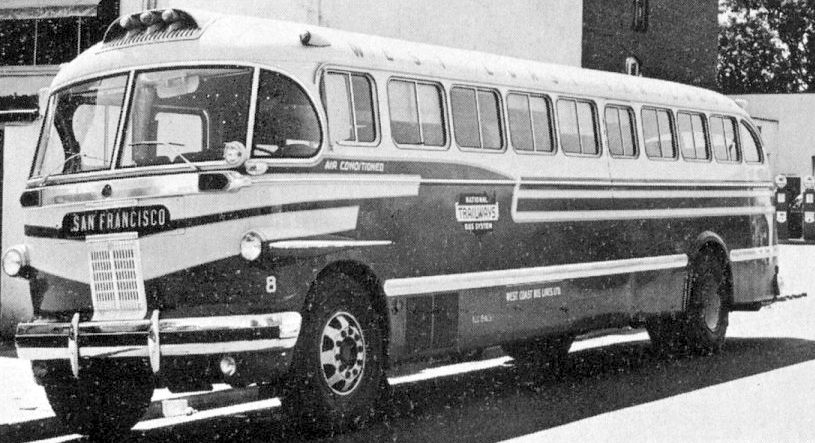 Furthermore, they purchased much of the band's equipment, including a 1948 ACF Brill over-the-road coach to provide the band's transportation. It was customized to accommodate both equipment and sleeping, and the group traveled in that bus from 1968-1970.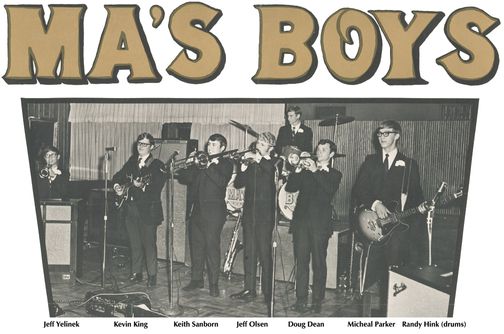 In fall 1967, Ma's Boys changed its musical style and reformed as a seven-piece horn band. Gullickson and Lidke departed and Tom Manning (trumpet) and Rod McGinnis (lead vocals) were added to the new line-up.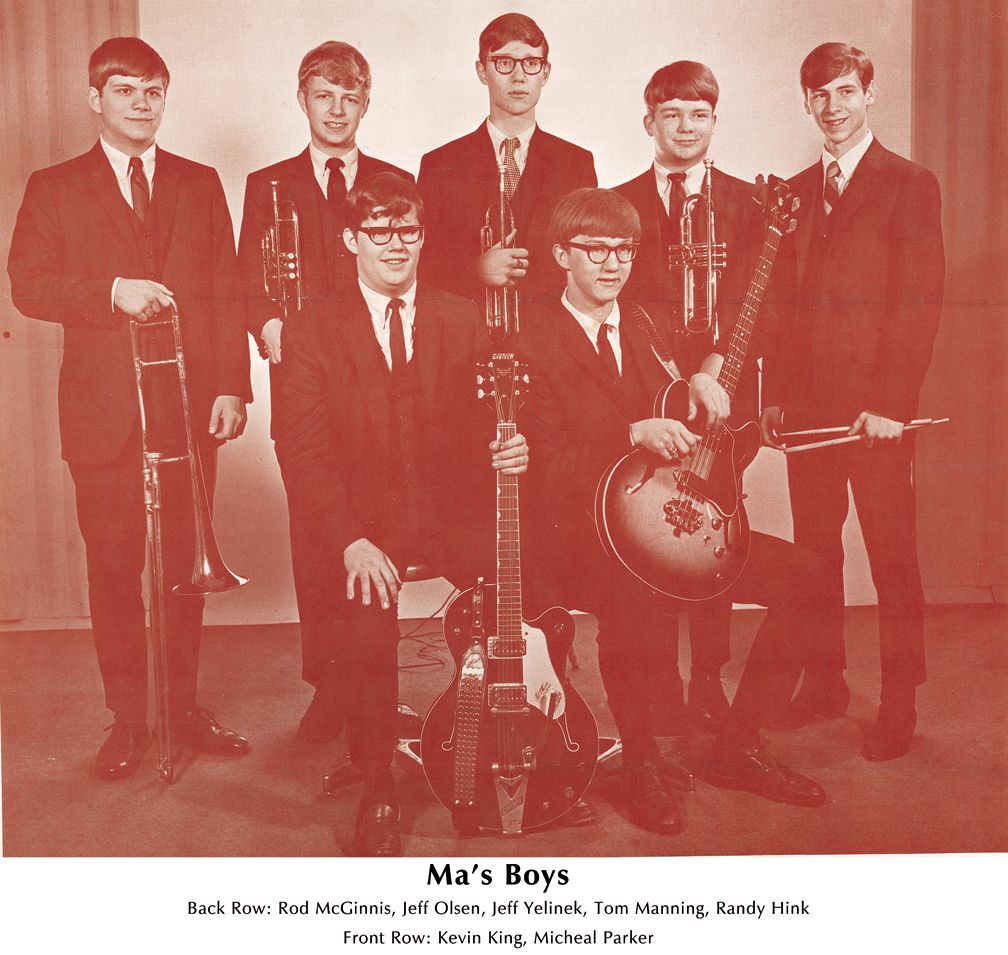 Rounding out the new sound, Yelinek (organ/trumpet) rejoined the band and Olsen changed to trumpet.  When Manning and McGinnis left in summer of 1968, Doug Dean (trumpet), Keith Sanborn (saxophone/lead vocals) and Jeff Bower (trombone/vocals) were added to complete the band.  The line-up changed once again in fall 1969 when founding member Hink left the band and Jimmy Goings (drums/lead vocals) was added. Goings was later replaced by Gary Swanson.

In their early years, the group had established a solid reputation as well as a loyal following in the tri-state area. In 1968, promoter Jimmy Thomas, a South Dakota Rock and Roll Hall of Famer in his own right, took notice and offered to manage the band.  With his connections to places like the Hollyhock Ballroom, the Showboat, and the Mocamba Club, Ma's Boys were soon playing to new, large crowds across the Upper Midwest. Other favorite locations for Ma's Boys included the Arkota Ballroom and Coliseum in Sioux Falls, Groveland Park Ballroom in Tyndall, the Rainbow Ballroom in Lane, Ruskin Park Ballroom, Rest Haven Ballroom in Lake Andes, Dell Rapids Pavillion, Japanese Gardens in Flandreau, Milltown-Island Park Ballroom, Blue Dog Inn, Roller Drome in Mitchell, Horatio's in Brookings, and the Depot in Aberdeen. They also performed for functions at numerous Colleges and Universities, and the band expanded their play beyond the tri-state area to North Dakota and Wisconsin. 

One of the more unique gigs for Ma's Boys took place in 1969 when the band played at the Sioux Falls Arena for the first all-school baccalaureate. Seniors from Washington, Lincoln and O'Gorman were in attendance for the rock music service created by Kevin King and Dave Westby. 

In the fall of 1970, Ma's Boys broke up and band members went their separate ways.  King, Parker and Sanborn joined with ex-Apostle members and South Dakota Rock and Roll Hall of Fame members Gary Swanson (drums/vocals) and Willie Bertsch (lead vocals) to form King Kong – a popular top 40's band managed by Jimmy Thomas. 
Half & Half Is Here! Buy It Now
Previous events
This event is part of the Iowa Rock 'n Roll Music Association Rock the Roof Concert Series
Signup here to keep in touch!